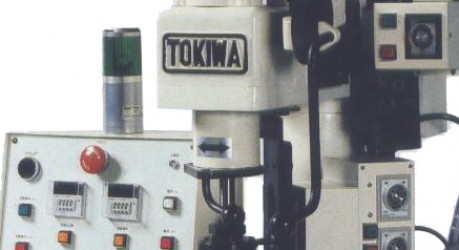 Item No.
Lapping & Polishing Machine
Product Name
Automatic Mirror Machine
Description
With the multiple-shape processor and NC functions, this particular mirror polishing machine can automatically set its route of polishing based on the shape of the mold until the desired smoothness. All you have to do is to secure mold on the spinning disk and set the spinning speed at low. Then, use the chuck on the main shaft of the machine to hold soft metal (Cu, Al) or a wooden polishing tool (brushed with a fair amount of diamond paste 60μm-0.25μm in sections). Follow the route preset by the machine to polish the inner or outer outlines of the mold.
Features
The NC function is added in order to further elaborate the automatic polishing function and reduce the need for man-power.
The automatic mirror machine is an intelligent system with the ability to learn new polishing routes. Operator can manually enter new desired polishing routes to make the polishing more flexible. It is user friendly.

Relative to the standard polishing tools, the workbench may be shifted in x and y directions and the speed may be adjusted. When operating the machine, specific integers will be displayed which may be employed to reassign future polishing to work in exactly the same operating manner.

Spherical materials can also be polished.
Specification
Type-NT Set(NT-60C/NT100A)

Most effective on molds that are irregularly shaped, cold-forged, formed from powder metallurgy or formed from injection molding, etc. Besides, it is also effective on both internal and external diameters, curved points and sharp edges after EDM (electrical discharge manufacturing) or milling processes.
Cosmovac Industrial co., LTD 
Address : No.135, Heping E. Rd., Yongkang City, Tainan County 710, Taiwan (R.O.C.) TEL:06-2533371
Copyright ©1989 of Cosmovac. All Rights Reserved.
Designed by humenad | 旭創
,
Hosting in ithost | 旭創
suggest use IE 7.0 ir Mozilla Firefox, and use 1024*768 to take best view.