Spray Polishing Machine(aerolap)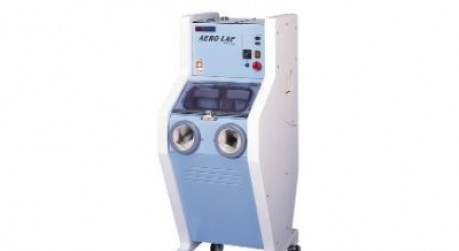 The polishing served; the technical equipment transferred
Nano-grade Polishing
--Polish simply by spraying; with enough potential to replace the handiwork of an experienced professional.
Specialties of the Spray Polishing Machine
•Able to polish a variety of indented and irregularly shaped and delicate molds, along with cutters, parts, etc.
•Achieve a perfect polished surface easily in seconds.
•Capable of removing and polishing small deckle edges while cutting or grinding delicate parts and cutters.
•Polishing process removes roughness on the surface without damaging its shape, size or precision.
•Extends the life of molds, cutters and especially cold forged mold.
•Reduces the coefficient of friction on surfaces, preventing possible sizing of molds and cutters
•The polishing process barely produces any dust, which would ensure the sanitization of the working environment
•Diamond burs can be made if needed (roughness of the burs depend on normal/fine polishing).

Cosmovac Industrial co., LTD 
Address : No.135, Heping E. Rd., Yongkang City, Tainan County 710, Taiwan (R.O.C.) TEL:06-2533371
Copyright ©1989 of Cosmovac. All Rights Reserved.
Designed by humenad | 旭創
,
Hosting in ithost | 旭創
suggest use IE 7.0 ir Mozilla Firefox, and use 1024*768 to take best view.