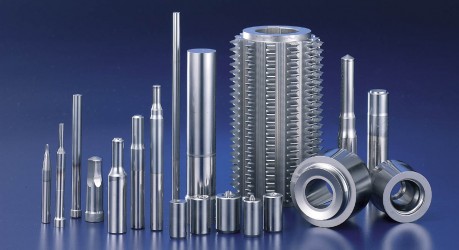 With great corrosion, thermal and oxidation resistances, CrN Coating surppass TiN Coating. It is suitable for using in warm environments that involves sliding or rolling in high speed.
Features
Color of CrN coating: Silver
Micro-hardnessof CrN coating: Hv1750
Thickness of CrN coating: 1-40µm
Thermal tolerance of CrN coating: 700ºC
Coefficient of fricting of CrN coating: 0.3
Adhesive force of CrN coating: >60N
Specification
CrN coating temperature: ≦500ºC
Material of substrate: SUS, HSS, SKD61, Carbon steel, Al alloy, Ti alloy, etc
Appropriate for: parts for mobiles, mechanical parts, molds and threading dies, etc.
Cosmovac Industrial co., LTD 
Address : No.135, Heping E. Rd., Yongkang City, Tainan County 710, Taiwan (R.O.C.) TEL:06-2533371
Copyright ©1989 of Cosmovac. All Rights Reserved.
Designed by humenad | 旭創
,
Hosting in ithost | 旭創
suggest use IE 7.0 ir Mozilla Firefox, and use 1024*768 to take best view.