TiAlCrN Coating_TiAlN coating,AlCrN coating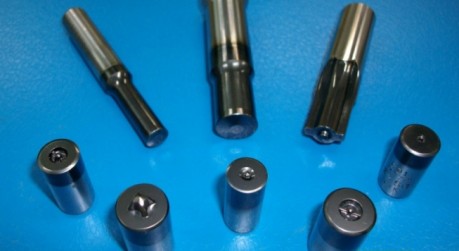 The coating technique on metal alloys has been established for quite a while now. It had also centered itself around the technique of sputtering coating since different alloys form different amounts of pressure when in gaseous form. The sputtering technique also can form various ratios of alloys when coating by using different alloy targets. However, such method of coating often results in rough surface, nebulization, and sticking of materials when processing. Furthermore, the instable performance of the tool life can lead to a fair amount of expense for the operator.
Features
Properties of the TiAlCrN coating:

Hardness (Hv0.05)

3000±400

Coefficient of friction

0.4

Coating thickness (µm)

1-5

Highest operating temperature (℃)

900℃±100℃

Color

Black

Frictional wear resistance

++++

Adhesive wear resistance

++++

Frictional oxidation resistance

++++

Corrosion resistance

+++
Specification
Cosmovac Industrial Co,. Ltd has repeatedly worked on overcoming the critical defects of the sputtering coating technique since of success in the production of the TiX coating. Several companies in the same line of business chose to bombard the alloy targets to obtain the atoms of the targets, which are then coated onto the surfaces of the work pieces. Our company uses activation of plasma to ionize the atoms of the alloy targets plus nano-composite coating technique to achieve superlattice condition and to create our TiAlCrN coating. Therefore, the hardness and oxidation resistance of our TiAlCrN coating can reach up to Hv3000±400 and 900℃±100℃. The most important point is that the surface of our TiAlCrN coating has a beautiful and smooth metal gloss instead of a cloudy surface. It is due to these factors that allow such coating for more processes without having to worry about the coating being torn off easily during the process and requiring for more polishing and coating. Also, due to the special properties of the TiAlCrN ion, it does not matter even if the tool being used is a tungsten carbide cutter or a high-speed steel mold, an even layer of Al2O3 will form on the surface of the work piece and function as an isolating layer to prevent oxidation. Therefore, not only will the life of the mold and cutter increase significantly, great expense can be saved and thus providing more profit for the company.
Cosmovac Industrial co., LTD 
Address : No.135, Heping E. Rd., Yongkang City, Tainan County 710, Taiwan (R.O.C.) TEL:06-2533371
Copyright ©1989 of Cosmovac. All Rights Reserved.
Designed by humenad | 旭創
,
Hosting in ithost | 旭創
suggest use IE 7.0 ir Mozilla Firefox, and use 1024*768 to take best view.