Surface Transformation Process STP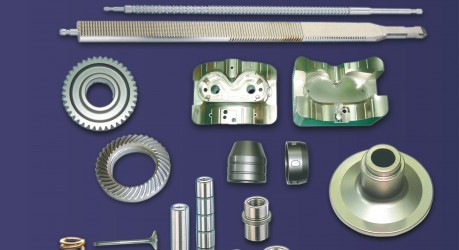 STP enhances the hardness of the surface of metals, strengthens STP's functions and fatigue resistance, increases its sliding ability and doubles the life of the machine.
Features
STP can be applied to all fields of metals like aluminum, copper, titanium, carbon steel, stainless, alloy steel and tool steel, etc. STP's processng temperature (200℃) will not disfigure but enhance its hardness of surface(10-20 μm ) and prolong its life.
STP promote most effective on:
●Plastic and rubber molds because it can remove materials from mold more easier.
●Thread rolling tools, dental plates and rolling wheels (fatigue resistant, wear resistant, prolongs life).
●Broaches, cutting blades and cutting dies of the wire-cutting processing (wear resistant, prolongs life).
●Sliding components, spindles and bushes and transport screws (less friction, smoother sliding, less dust pollution).
●Gear wheels (fatigue resistance, reduce noise).
●Vessel-use screws and springs (fatigue resistance).
●Parts such as guide pins and plungers (smoother sliding).
●Parts made of Al, Cu,Ti, Mg or Zn alloys.
●Inapplicable or inadequate for metal tools and parts from heat processing.
●Inapplicable or inadequate for plated tools and parts.
Specification
STP processing effects:
●Greatly increase fatigue resistance of tool and prolong its working life.
●Significantly increase grain boundary strength, density, surface hardness, strength, wear and crumple resistance.
●Creates non-crystal surfaces, and significantly increases corrosion resistance.
●Micro-structures on the surface can improve material flow, allowing materials to be removed from molds more easily.
●Suitable for parts made of Al, Cu, Mg, Zn alloys and fortified parts that are difficult to be treated with the traditional heat processing.

Cosmovac Industrial co., LTD 
Address : No.135, Heping E. Rd., Yongkang City, Tainan County 710, Taiwan (R.O.C.) TEL:06-2533371
Copyright ©1989 of Cosmovac. All Rights Reserved.
Designed by humenad | 旭創
,
Hosting in ithost | 旭創
suggest use IE 7.0 ir Mozilla Firefox, and use 1024*768 to take best view.