CD, DVD, Blue-ray mold (CD, DVD, Blue-ray mirror)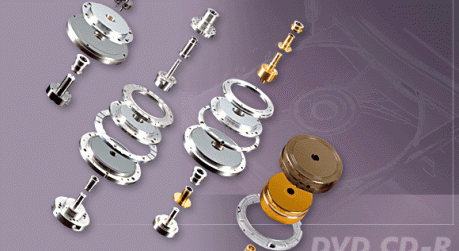 Function:
The stamper touch on the uniform and denser apexes of mirror surface to create heat resistance.
Effects:
1. Lower friction, prolong life of mold, mirror plate, and stamper.
2. Keep stamper at constant temperature when forming the disc. As the molten polycarbonate flows out from the center, the temperature curve decreases more smoothly; thus, allowing the grooves and pits to be formed more easily, which can improve the yield rate and shorten the cycle time. (In this case, the time required for formation).
Application:
Applied in molds (Ex: Seikoh Giken F-type), CD, DVD mold, and Blue-ray disc mold( CD, DVD, Blue-ray mirror)
Features
Appearance:
- Waves on the mirror.
- Foggy and white color. (Could not be focused the waves by microscope)
S-DLC coating performance:
Micro-hardness:Hv 3000
Coating thickness: 3μm
Excellent Adhesion


Cosmovac Industrial co., LTD 
Address : No.135, Heping E. Rd., Yongkang City, Tainan County 710, Taiwan (R.O.C.) TEL:06-2533371
Copyright ©1989 of Cosmovac. All Rights Reserved.
Designed by humenad | 旭創
,
Hosting in ithost | 旭創
suggest use IE 7.0 ir Mozilla Firefox, and use 1024*768 to take best view.