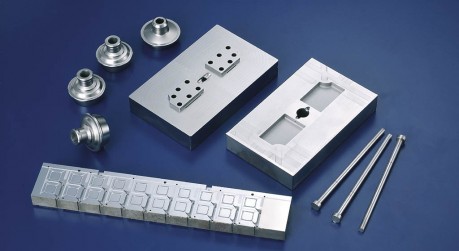 RKCN is a new mold can be coated with CRXN and be perfected with the RKT process. The performance of the IC molds coated with RKCN is much better than the traditional CrN coating and electroplated Cr.

RKT is a special technology developed to improve the adhesion resistance of molds. It is applied in IC molds like cavity bar, which is based on coated CRXN. If you find the efficiency of the RKCN-coated molds reduced, simply send it back to us to have the RKT process redone, and the cavity bars will be good as new.
RKT and RKCN can supply you with the best solution to the problem of the peeling of compound remains.
Features of RKT:
◆Effectively improve the surface roughness of cavity bars
◆Reduce the adhesion force between the compound and the cavity bar
◆Outstanding performance when applied to green compounds
◆Does not damage other existing cavity bars in the cleaning process
◆Promotes your productivity
◆Renews the cavity bar
◆Decay resistance
◆Short delivery time
Cosmovac Industrial co., LTD 
Address : No.135, Heping E. Rd., Yongkang City, Tainan County 710, Taiwan (R.O.C.) TEL:06-2533371
Copyright ©1989 of Cosmovac. All Rights Reserved.
Designed by humenad | 旭創
,
Hosting in ithost | 旭創
suggest use IE 7.0 ir Mozilla Firefox, and use 1024*768 to take best view.