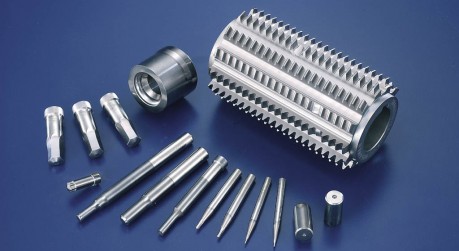 The TiCN coating is harder than TiN coating but has a lower thermal resistance. Therefore, it is more effective than TiN coatings under the conditions that provide intensive wear.
Features
Color of TiCN coating: Grayish black
Micro-hardness of TiCN coating: Hv3000
Thickness of TiCN coating: 1-4µm
Thermal tolerance of TiCN coating: 500º C
Coefficient of friction by TiCN coating: 0.4
Adhesive force by TiCN coating: >60N
Specification
Coating temperature of TiCN: <500ºC
Material of substrate: SUS, HSS, SKD61, WC, ceramics, glass, Al alloy, Ti alloy.
Suitable for : cutting tools, cold working punches and dies for harder steel and alloy, mechanical parts, decorative parts, etc.
Cosmovac Industrial co., LTD 
Address : No.135, Heping E. Rd., Yongkang City, Tainan County 710, Taiwan (R.O.C.) TEL:06-2533371
Copyright ©1989 of Cosmovac. All Rights Reserved.
Designed by humenad | 旭創
,
Hosting in ithost | 旭創
suggest use IE 7.0 ir Mozilla Firefox, and use 1024*768 to take best view.